Unless you're living off the grid or cast an enchantment to protect you from advertising, you're undoubtedly aware that Marvel's new superhero movie, Doctor Strange, had a huge opening weekend. To celebrate the Sorcerer Supreme's cinematic debut, Jock Pop compiled a list of the hottest Marvel Cinematic thirst traps for your enjoyment.
1. Chris Evans as Captain America.
Captain America: The First Avenger is chronologically the oldest Marvel movie and also began Marvel Studios' trend of hot male thirst traps in every movie. The superhero action fills seats with straight males but it's these milkshakes bringing the gay boys and girls to the yard…er cineplex.
Don't get burned Peggy, that is some hot shit!
An outtake of Chris getting oiled-up
Here he is again destroying a type of wood and inspiring another type of wood in Avengers: Age of Ultron.
2. Chris Pratt in Guardians of the Galaxy
Look at the gifts Marvel Studios gives us! They followed up Chris Evans' heaving chest with a recently ripped and equally heaving Chris Pratt chest.
3. Charlie Cox in Daredevil
While not part of the Marvel Cinematic Universe, Daredevil on Netflix is in the same universe and therefore bound by Marvel law to provide hot shirtless scenes for fans.
4. Mike Colter in Luke Cage
Another Marvel Netflix hero who clearly needs to have more shirts destroyed to expose his beautiful bullet-proof chest. Sweet Christmas he's sexy!
5. Paul Rudd in Ant-Man
Ant-Man proves that good things come in small packages and continues the trend Chris Pratt started of comedic actors getting in shape to play superheroes.
Just applying rubbing alcohol to his abs like one does.
6. Chris Hemsworth in every damn Marvel movie!
By far the most objectified man in any Marvel movie property is Chris Hemsworth. He must have a contractual obligation to appear shirtless in every Marvel movie he's in.
Thor traps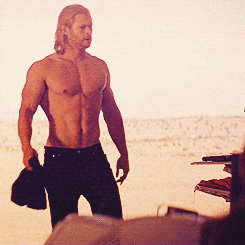 This totally unnecessary scene of Thor, God of Thirst Traps, was included  in Thor 2: The Dark World to appease salivating fans.
"What am I doing in this scene from Avengers: Age of Ultron besides being hot!?"