We've seen some great end zone celebrations this season. For some reason twerking has made a comeback. I'm not mad about this at all. This week Emmanuel Sanders got in on the action after scoring a TD against the Bengals. Check it out: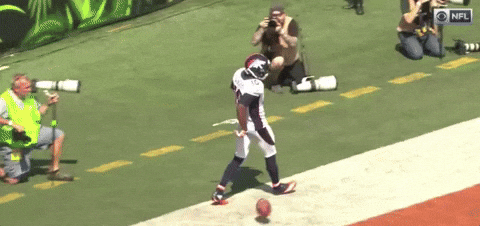 The actual play was one of beauty. Check it out:
https://twitter.com/SportsCast_THN/status/780111072019746816
From the Sporting News:
The two started their careers together with the Steelers in 2010; in the years since Sanders left Pittsburgh for Denver, Brown has grown into the best receiver in the NFL and, arguably, the most famous twerker in sports.
"A light twerk" is the perfect way to put it. Sanders was in the end zone after a 41-yard touchdown.

A 1,000 yard receiver in each of the last two seasons, Sanders had 88 total yards in Trevor Siemian's first two starts and said there was some "frustration" about the lack of production. So far in Week 3, so good.
This all begs the question? Who had a better twerk? Antonio Brown or Emmanuel Sanders? Let us know in the comments.
Which player is better at twerking?

— JockPop (@JockPop) September 26, 2016